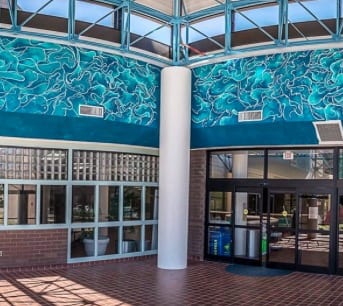 Surf's Up! A New Public Art Installation Is Coming to 17th Street
Virginia Beach, Va. (Aug. 7, 2020) — A new art installation will ride the waves to the Virginia Beach oceanfront starting Aug. 10-14.
Hive Public Space, Inc. submitted the winning design for the installation based on a call from the City of Virginia Beach Cultural Affairs Department.
"Our installation aims to capitalize on Virginia Beach as a surf destination," said Alexandra Gonzalez, president and co-founder of Hive Public Space, Inc. "We believe this installation will attract an audience and instill a memorable experience deserving of its own hashtag."
"Barreled" celebrates Virginia Beach's surfing culture and takes inspiration from one of the most sought out and short-lived experiences in surfing, riding through the barrel of a wave. Barrels are formed from powerful swells that rapidly travel from deep to shallow waters. The energy from the lower portion of the wave falls behind from the force of friction of the ocean floor. Meanwhile the top of the wave continues and collapses over the lower portion.
Catching a ride through a barrel takes mediation between the right ocean conditions, a surfer's skill, and their timing. It's a rare moment that at most last only seconds. All we can do is chase and savor these experiences.
"Our installation takes place in the form of four acrylic arches that mimic the barrel experience," said Gonzalez. "Capturing a moment in time within the barrel, the piece allows the viewers to inhabit and move through the experience."
The installation is constructed out of a tubular steel system and acrylic panels that represent the ocean's oscillating balance of power and fragility. Each arch unfolds from wall to ceiling and ends with a seating component that encourages human interactions.
Each steel "wave" in "Barreled" is also spaced out perfectly for a socially distanced selfie opportunity!
Thanks to generous donations from the Virginia Beach business community, the installation will be accompanied by "Broken Current," a mural by recognizable local artist Navid Rahman that illustrates powerful rip currents and tidal currents created by ocean waves. Last year, Rahman created another mural for the City of Virginia Beach, which is located in the main lobby of the Bayside Recreation Center.
A formal unveiling ceremony will take place once we are safely able to do so.
About Hive Public Space:
Hive Public Space is a New York-based urban design and placemaking consultancy. Their goal is to bridge DESIGN, PLACEMAKING and RESEARCH to create resilient public spaces and socially inclusive environments. Their multidisciplinary approach goes one step further into the economic and operational aspects of public spaces. Working at various scales ranging from art installations to masterplans, their goal is to give new life to under-utilized spaces by setting them up for urban, social and economic vitality.
Artist Bio: 
Navid Rahman's work has always been a form of world building, creating environments with a blurred line of whimsical fantasy and reality. Much of the work highlights fictional matriarchal societies, focusing on the cultural and environmental impacts of the habitats they reside in. Navid creates striking scenes of sari clad women, enchanted forests, whimsical organic shapes using colorful patterns filled with meticulous detail. Using a mixed medium of tools and supplies, he is obsessive in his attention to line weight details and the natural flow of the work and the relationship it has with the public space.
ABOUT THE CITY OF VIRGINIA BEACH CULTURAL AFFAIRS DEPARTMENT:
The Cultural Affairs Department engages residents and visitors through meaningful arts, heritage and cultural experiences to connect and strengthen communities. The Department assists and directs the Virginia Beach Arts & Humanities Commission, coordinates the City's Public Art Program, oversees Virginia Beach History Museums, provides contract management for the Sandler Center for the Performing Arts, serves as the liaison with Virginia MOCA and the ViBe Creative District, and serves as a resource to local arts and humanities organizations.
https://www.vboceanfrontnorth.com/wp-content/uploads/2020/08/screenshot164.jpg
306
343
Holiday Inn & Suites Virginia Beach – North Beach
https://www.vboceanfrontnorth.com/wp-content/uploads/2019/12/Holiday-Inn-and-Suites-Logo-VaBeach-North-Beach.png
Holiday Inn & Suites Virginia Beach – North Beach
2020-08-11 17:08:59
2020-08-11 17:08:59
Surf's Up! A New Public Art Installation Is Coming to 17th Street